DISCOVER

PORTALE TM6

 NAILING MACHINE
The Portale is an automatic machine with numerical controls (CNC). The Portal TM6 is designed to manufacture various wood components in special sizes including two or four ways pallets and covers and sides for crates.
The machine has an electronic check on the axis to check the vertical movement of the nailers on the four axis which allows the shifting of the nailing heads. Optional axis can be fitted with different tools (drill, saw ect.).
The nailing heads slide parallel and independently along four axes. The movement of the axis and nailers is controlled by a numerical check TEX to guarantee the best performance.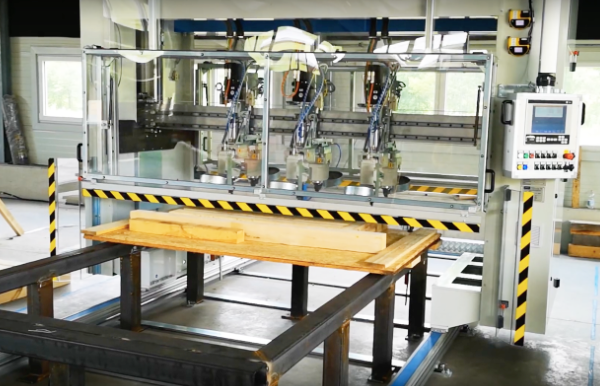 Additional component can be added (jigs, stackers and benches)

Guaranteed performance (managed by  numerical check TEX)

Memory of up to 15 programmes

Can be fitted with different types of nail and nailers

Adjustable axis speed with acceleration and deceleration ramp
Fitted with mechanical and electronic devices to guard against accidental shots

Inclinable back slides for automatic clenching

Data can be entered by keyboard or serially during work

Working list of up to 20 programmes
Have any question?
Contact us today on sales@tfproducts.co.uk